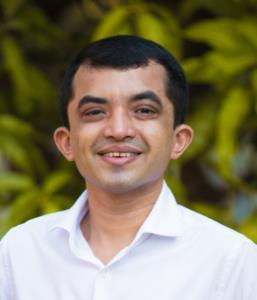 About Rajiv Goveas
A versatile interior designer in Mangalore with over a decade of experience; He has a keen eye for detail and the creative ability to morph a mundane object into an award winning design; The Bharat Auto Cars Pvt. Ltd. showroom which was inspired by an oven toaster.
Rajiv's love for design stems from early childhood and was enhanced academically. He is driven by passion, visualizing the world of design to have myriad scope guided by client requirement and budget.
Since his graduation in the year 2004, he has had many opportunities to showcase his talent. His inception to the challenging world of commercial design with Gulshan Roy Architects led him to accepting the challenge of working in Doha, Qatar in 2006 for the renowned Doha Asian Games. The appreciation and recognition of his work motivated him to start his own firm 'R G Design' in 2008. His passion for design has also led him into Logo design. Since then it has been a world of discovery and growth with changing times.
Rajiv's aesthetic ability and experience of turning a concrete shell into a home, showroom or mall is neatly braided into his simple, accommodating and ingenious personality. This makes the experience of working with him comfortably Professional. As Margaret Wolfe Hunger ford said "Beauty is in the eye of the beholder", Rajiv makes the dream a reality for every beholder.